Image source: Freepik
In the rapidly evolving customer experience landscape, businesses constantly seek innovative ways to engage and delight their customers.
Digital wallets, such as Apple Wallet and Google Wallet, have transformed how customers interact with brands, providing a seamless and connected experience like never before.
From contactless shopping to accessing loyalty programs and storing digital tickets, Apple and Google Wallet have revolutionized the customer journey.
In this blog post, we will explore the transformative impact of mobile wallets on customer-business interactions and the overall customer experience.
We will also show you how PassKit, our customer loyalty software, helps you create a connected customer experience by designing, managing and distributing digital passes for mobile wallets without coding or design skills.
You can start a 45-day free trial to evaluate our platform.
Let's demystify the connected customer experience.
What is connected customer experience?
Image source: Salesforce
Connected customer experience is a comprehensive strategy integrating various brand touchpoints into a seamless and unified journey.
It involves aligning departments, teams, and systems to eliminate the need for customers to repeat their information or concerns.
By working harmoniously, marketing, sales, customer service, and operations teams can create a personalized and connected experience.
The goal is to provide a cohesive journey that builds trust and loyalty, where each interaction feels like a natural progression rather than a disjointed encounter.
What stats show us about connected customer experiences
Here are some statistics about connected customer experience:
Mobile wallets can significantly help you with customer experience optimization. Let's explain how.
Understanding Apple Wallet and Google Wallet
Image source: Chrome Unboxed
Apple and Google Wallet provide digital storage space for users' payment cards, ensuring convenience and safety during transactions.
It eliminates purchasing obstacles, such as manually inputting credit card information or using extra security measures like safety pins or two-factor SMS messages or emails.
It's obvious how convenient it is for customers to use a single wallet for payments across various platforms and even use their phones instead of credit cards for in-person purchases.
In addition to making payments, these wallets have multiple purposes, such as holding loyalty program cards, accumulating points, storing digital tickets, and even digital documents and IDs.
Using tokenization, biometrics, and encryption technologies makes it challenging for unauthorized individuals to access and exploit these systems, ensuring their safety.
Additionally, zero liability policies are in place to further protect users.
How digital wallets boost connected customer experience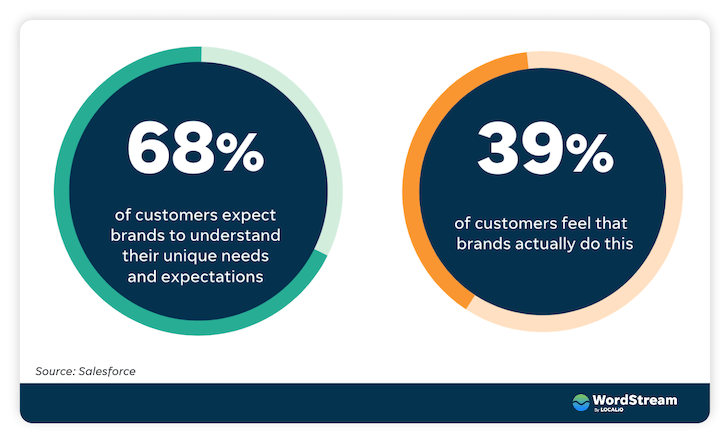 Image source: WordStream
The value of mobile wallets for connected customer experience is immense.
Mobile wallets enhance convenience. Customers can easily access their digital wallets to make payments, store loyalty cards, and redeem offers, eliminating the need for paper or plastic cards or cash. Transactions become more efficient, helping you save time and effort.
Digital wallets foster engagement. You can send targeted notifications, personalized offers, and updates directly to customers' devices, enhancing communication and staying top-of-mind. This customized engagement strengthens customer relationships, increasing loyalty and advocacy.
Mobile wallets provide valuable insights. By analyzing data from digital wallet interactions, you gain a deeper understanding of customer preferences, behaviors, and purchasing patterns. It enables you to deliver more relevant and personalized experiences, tailoring products and services to meet individual needs.
If you want to leverage the power of mobile wallets like Apple and Google Wallet, PassKit is the ultimate solution that caters to all your needs.
The best part is that it doesn't limit you to digital passes only – you can also create loyalty reward cards, digital membership cards, and e-gift cards.
Let's explain how it works.
Creating digital passes for Apple Wallet and Google Wallet
PassKit enables you to improve engagement and loyalty by creating, managing, and distributing digital passes for customer incentive programs.
Since PassKit seamlessly integrates with popular mobile wallets like Apple Wallet and Google Wallet, you can boost your program with these apps your existing customers already use and trust to ensure a connected customer experience.
With our Pass Designer, you can leverage pre-made loyalty card designs aligned with Apple and Google guidelines. You can also include branding elements and select advanced fields to collect customer data.
PassKit also offers multichannel distribution. You can share your passes using various offline and online channels like email, SMS, social media, or your website. Customers can tap a link to add their pass to their mobile wallet, ensuring effortless access and convenience.
PassKit also provides robust analytics capabilities. You can track pass distribution, customer engagement, redemption rates, and other loyalty program KPIs.
Start a 45-day free trial to see PassKit in action.
Utilizing PassKit to provide a connected customer experience
Let's provide a comprehensive overview of how PassKit can assist you in delivering connected experiences through mobile wallets.
Offering loyalty cards and reward programs
Loyalty cards and reward programs promote a connected customer experience by incentivizing customers to engage with a brand consistently.
Customers who earn rewards and receive personalized benefits feel a stronger connection to the brand, which increases their loyalty and fosters ongoing engagement.
Creating digital membership cards
Creating digital membership cards promotes a connected customer experience by integrating seamlessly into the modern digital lifestyle.
With digital cards, customers can access their membership benefits across multiple devices, receive personalized offers in real-time, and engage with your brand through interactive features like push notifications and in-app communication.
Providing digital coupons
Digital coupons enable customers to engage with your brand beyond the transactional aspect.
With special discounts, limited-time offers, or unlocking hidden deals through digital coupons, you can create a fun and interactive customer experience.
By offering personalized discounts and tailored promotions, you can create a sense of exclusivity, making customers feel valued and connected.
Offering gift cards
Gift cards not only facilitate personal connections between givers and recipients but also have the potential to build new connections for your brand.
You can acquire new customers who are not familiar with your business. It opens doors to new relationships and expands the customer base, fostering a broader network of connected customers.
Creating digital tickets
Creating digital tickets promotes a connected customer experience by offering convenience, accessibility, and enhanced engagement.
With digital tickets accessible on smartphones, customers can easily manage, store, and present their passes, reducing the hassle of physical cards.
It also allows for personalized notifications and interactive features, fostering a more profound sense of connection and creating a seamless and interactive event experience.
Collecting customer data to personalize experiences
When creating digital passes, PassKit allows you to add advanced fields to collect valuable customer data, such as gender, date of birth, and phone number.
Tailoring your products, services, or experiences based on this data is crucial to satisfy their preferences and requirements.
It helps you provide highly personalized experiences that foster a stronger emotional connection between your customers and your brand.
Using advanced analytics to monitor performance
Our advanced analytics lets you quickly determine which mobile wallets your customers prefer.
It lets you focus your marketing efforts on specific mobile wallets, ensuring your target audience can easily access digital passes.
PassKit also reveals the distribution sources that best affect customer enrollment.
You can identify the most effective channels for promoting your digital passes, whether email campaigns, social media, SMS, or other distribution methods.
It helps maximize your reach and engagement, fostering a connected customer experience.
Sending location-based offers
PassKit allows you to use location-based marketing to boost customer engagement and foot traffic. Customers near your business can receive customized offers to encourage them to visit your restaurant, gym, spa, or coffee shop.
These offers may include special deals, discounts, information on new products or services, or reminders of unused loyalty points.
Sending push notifications
With PassKit, you can send lock screen messages to capture immediate customer attention.
They can quickly glance at their phones and be instantly informed about the latest updates or offers, promoting timely engagement and encouraging them to take action.
Each customer can receive a unique notification based on their personal history with your business. This level of personalization allows you to engage customers with promotions specifically relevant to their interests and needs.
As you can see, PassKit is an excellent solution to provide a connected customer experience by leveraging Apple and Google Wallet.
All you need to do is start a 45-day free trial to access our platform.
Best practices for providing a connected customer experience
We have put together a list of practical strategies to help you establish better relationships with your customers and distinguish your business from the rest.
Understand your customers: You can gain insight into customer requirements by conducting market research and analyzing data. Tailoring your offerings to exceed their expectations can improve customer satisfaction.
Omni-channel integration: Integrate all communication channels, including websites, social media, email, chatbots, and phone lines, for seamless customer service. Use a CRM system to track interactions and provide personalized experiences.
Proactive communication: Anticipating customer needs and providing relevant information improves customer service. Use automation tools to trigger personalized notifications based on behavior or lifecycle stages.
Empower your customer service: To improve customer experience, give your support team the right tools and training to handle issues. Create a knowledge base for customers to find solutions and offer self-service options like FAQs and community forums.
Continuous feedback loop: Listening to customer feedback is crucial for improving customer service. Regularly assess your processes and interactions to meet their evolving needs and expectations.
Embrace the power of connectivity, personalize interactions, and stay attentive to your customers' needs to thrive in the age of hyperconnectivity.
Final words about the connected customer experience
PassKit is the best customer loyalty platform for providing a connected customer experience due to its comprehensive features and seamless integration capabilities.
With PassKit, you can create digital passes for Apple and Google Wallet, ensuring customers a convenient and centralized experience.
Advanced customization options allow you to tailor your digital passes to match your brand identity, resulting in a cohesive and consistent customer journey.
By leveraging our features, you can deliver personalized offers, real-time updates, and location-based alerts, fostering engagement and improving customer connections.
Our multi-channel distribution methods make reaching customers through various communication channels easy, ensuring broad accessibility.
Ready to enhance your customer loyalty program and deliver a connected customer experience? Sign up with PassKit today and revolutionize how you engage with your customers.
FAQs about connected customer experience
What is a connected experience?
When you can deliver a smooth and seamless customer experience, accompanied by a consistent brand feel across customer touchpoints, you are providing connected customer experiences.
It means ensuring that interactions with your business, whether through social media, website, marketing collaterals, mobile phones, in-store experiences, or computers, are interconnected and aligned.
What is an example of a connected experience?
A connected experience could look like this:
A customer runs into one of your ads
They sign up for your loyalty program
They start paying with their Google Wallet or Apple Wallet and collect points
They redeem those points when they come to one of your physical stores
Customers enjoyed a seamless experience across digital channels, resulting in a successful sale.
What are the 3 main components of customer experience in the customer journey?
While there are many angles to take, customer experience consists of the following:
Customer expectation – what the customer expects from your brand will determine customer sentiment later.
Customer interaction – ensuring that interactions meet or exceed expectations is crucial.
Customer perception – Customers form their opinions and feelings about a brand before or after interacting with it, and these perceptions will greatly influence their future decisions.
What is a connected customer?
A customer who engages in a connected customer experience interacts with a company through various touchpoints during a single journey. It can include liking social media posts, signing up for newsletters, attending presentations, and purchasing in stores.