Image source: Unsplash
Loyal customers make repeat purchases and recommend your company to their friends and family, which helps you drive long-term growth and success.
With the right customer loyalty software, you can create a custom loyalty program to reward repeat customers for their dedication, build lasting relationships, and increase customer lifetime value. 
PassKit, our customer loyalty platform, is one such solution you can test for free immediately. It helps you create a personalized loyalty program and manage and distribute digital loyalty cards, coupons, and membership cards your customers can store and use with mobile wallets such as Google Wallet and Apple Wallet.
PassKit also provides advanced analytics to track your loyalty program performance and better meet customer expectations.
If you want to learn more about other solutions, continue reading this guide.
We will provide information on the ten best customer loyalty software that can give you valuable insights into your customers' preferences and behaviors to help you improve your products and services and better meet the needs of your target audience.
Now, let's share some essential information on customer loyalty software before reviewing the ten best solutions on our list.
What is customer loyalty software for customer loyalty programs?
Image source: TechnologyAdvice
Customer loyalty software is a digital platform designed to simplify and automate managing loyalty programs.
It helps you build and maintain meaningful customer relationships by offering rewards such as discounts, special deals, and other incentives in exchange for customer loyalty. 
Not only does this technology make it easier to create loyalty cards and track points and rewards redemption, but it also allows you to collect valuable customer data and use it to gain insights into their behavior.
You can use loyalty program data to create more personalized offers and targeted campaigns, resulting in more engaged customers.
What are the different types of customer loyalty programs?
Image source: iStock
There are several types of customer loyalty software, each with unique capabilities. Depending on the loyalty features, you can create one of the following incentive programs:
Points-based rewards system allows customers to earn points for their purchases. When they accumulate enough points, customers can redeem them for rewards such as discounts, free products, or exclusive offers.
Tier-based loyalty programs allow customers to earn rewards based on their commitment to your brand. Customers can work their way up through a series of tiers receiving more valuable incentives during their customer journey.
Referral-based loyalty programs reward customers for referring friends and family to your brand, often by offering incentives such as discounts or free products.
Gamification-based loyalty programs leverage game-like techniques to bring customers a unique and exciting experience, often by incorporating elements such as challenges, rewards, and competitions to keep customers engaged.
To determine the best customer loyalty programs for your business, it's essential to carefully consider your specific needs and goals, as well as the preferences of your customers.
What types of businesses use customer loyalty program software?
Image source: iStock
Customer loyalty software is a must-have tool for businesses of all sizes. It helps them keep their existing customers happy and engaged and encourages new customers to join their ranks.
By using loyalty software, businesses can boost customer spending and strengthen their customer base. It's an invaluable tool for any company wanting to stay competitive and maximize profits.
Some of the most common businesses that use customer loyalty software include
Coffee shops
eCommerce store
Fitness centers
Beauty salons
Grocery stores
Movie theaters
Gas stations
Drugstores
By using customer loyalty software, businesses can automate many processes in managing a loyalty program, such as tracking customer purchases, issuing rewards, and providing customers with real-time information about their point balance. 
It saves them time and effort and helps them manage customer loyalty programs more effectively.
How does customer loyalty software help businesses?
Image source: Unsplash
Besides helping you retain customers and boost sales, there are other ways you can benefit from using loyalty program software.
It encourages automation
With customer loyalty software, you can better manage your business operations, streamline processes and increase workflow efficiency, reducing human errors.
You can automate the process of rewarding customers for their purchases or other actions and tracking and analyzing customer behavior.
By automating these tasks, you can focus on providing excellent customer service and experiences.
Additionally, automation helps ensure your customer loyalty program is consistent and fair, fostering customer trust and loyalty.
It provides deep data
Customer loyalty software provides a wealth of data about customers' interactions with your business through online channels or in-store visits.
For example, you can learn which products or services are most popular to focus your marketing efforts and improve your offerings.
You can also understand the effectiveness of loyalty program rewards and customer satisfaction and identify trends and patterns to inform your decision-making.
It lets you study customer behavior
Customer loyalty software provides information about your customers, including customer demographics and behavior, purchasing habits, and preferences.
You can use customer behavior data to identify specific groups of customers who are most likely to be interested in particular products or services and create targeted marketing campaigns to engage these customers and encourage them to make purchases.
You might use this data to offer personalized recommendations or rewards to individual customers based on their past purchases or interactions with your business. With this information, you can adjust your brand touchpoints and marketing strategy to suit their needs.
But what features does customer loyalty software need to include to help create and maintain long-lasting relationships with your customers? Let's give a short overview.
Four features typically included in customer loyalty software
Image source: Freepik
We've identified must-have features for any loyalty program to help you understand what to look for when choosing customer loyalty software for your business. Let's start with our list.
Self-service user portal
A self-service user portal is a great way to make the most of customer loyalty software.
It eliminates the need to contact customer service representatives, allowing you to quickly and conveniently manage your loyalty cards, offers, and rewards.
It not only saves you time and energy, but it also increases the accuracy and efficiency of your loyalty program. With the self-service user portal, you can easily update all critical information, ensuring your loyalty program is always running smoothly.
Robust rewards options
When creating an effective customer loyalty program, thinking beyond a single reward is essential.
While finding one reward that appeals to all customers is possible, it's far more likely that customers will have different needs. Therefore, it's crucial to ensure your loyalty software is flexible enough to offer a variety of incentives.
This way, you can tailor your rewards to each customer's preferences and ensure they get something they value.
You can include some of the following
Rewards for engaging with your business
Discounts or special offers on products or services
Early access to new products or limited-time promotions
Personalized experiences or exclusive events
Gifts or special bonuses for reaching certain milestones
It's also essential to allow customers to earn or redeem rewards across multiple channels, in-store, online, or through a dedicated mobile app.
Integrations with third-party apps
While some loyalty programs come with built-in features, they should be able to integrate with various other systems and applications through Application Programming Interfaces (APIs). It helps you use third-party software to enhance your loyalty program.
Some essential loyalty program integrations include CRM, POS, and mobile wallets.
A dedicated mobile app
It allows customers to access their loyalty program account and redeem rewards from anywhere, at any time. It can make it easier and more convenient for them to engage with the loyalty program.
However, there are also some potential drawbacks you should consider.
Custom app building can be a costly and time-consuming process. It gets more complex if you have limited resources and expertise. You also need to maintain and update the app. Finally, there is no guarantee that customers will adopt and use it.
Best customer loyalty software, such as PassKit, allow you to use mobile wallets instead of mobile apps.
Customers can use their existing mobile wallet app to view their rewards, redeem offers, and track their progress in the program. Because customers are familiar with mobile wallet apps, it automatically increases the adoption and usage of your loyalty program.
You can also provide a more engaging and interactive customer experience using push notifications and personalized offers to drive engagement and encourage repeat business.
Start a 45-day free trial to see how PassKit works.
Customer loyalty software: Our evaluation parameters
Image source: Freepik
We have taken the time to objectively compare and review different parameters for each tool to help you find the one that best suits your needs.
Our evaluation parameters include
Ease of use: We'll evaluate the software's user-friendliness, the simplicity of the rewards process, and the accessibility on mobile devices.
Price: Finding the right pricing plan for your budget can be challenging, but we're here to help. We'll show you the options available and even highlight those that offer free plans or trials so you can decide which works best for you.
Features: We'll look at general characteristics and their distinct advantages to determine the best fit for your business.
Customer support: We will list available support channels and their effectiveness.
Integrations: We will list third-party apps you can integrate with these solutions.
Now, let's review these customer loyalty solutions, shall we?
10 Best customer loyalty software on the market
We have worked hard to ensure you have the best customer loyalty software available. Don't waste any more time searching – let us help you find the perfect tool today.
1. PassKit
PassKit is the customer loyalty software that helps you create a connected customer experience. You can launch your loyalty program in minutes without developing a custom app or hiring designers and developers. It's suitable for non-tech-savvy users, so you don't need coding or design skills to use PassKit.
With PassKit, you can create digital membership cards, loyalty cards, or coupons using our loyalty card templates aligned with Google and Apple guidelines. You can customize each card according to your needs and include your brand elements. You can also use PassKit to create various digital passes, such as event tickets, boarding passes, community cards, and gift cards.
Customers can store and use these loyalty reward cards with an in-built digital wallet like Apple Wallet or Google Wallet. When they collect enough points, they can exchange points for various rewards using their mobile devices. You can use the CodeREADr Scanning app to validate your members' digital cards.
You can also use a multichannel distribution to promote and share your loyalty business cards to increase your visibility, customer engagement, and customer retention.
Thanks to advanced analytics, you can gather track redemption rates and boost your sales by sending personalized offers, targeted messages, or location-based alerts when customers are in your business area.
You can integrate PassKit with your CRM and POS or use Zapier to create an omnichannel reward system without writing a single line of code or going through any complicated process.
Industries
Any business looking to increase customer loyalty and improve business outcomes can use PassKit
Brick-and-mortar businesses
Hotels
Restaurants
Beauty saloons
Fitness centers
Coffee shops
PassKit is an all-in-one loyalty solution that covers all your business needs, from creating a beauty rewards program to airline loyalty programs.
Features list
PassKit offers the following features
The complete digital stamp card solution without POS integration using Loopy Loyalty, our second product.
Membership and loyalty card management for Apple Wallet and Google Wallet.
Digital coupon campaign manager for Apple Wallet and Google Wallet.
Event creation and manager to digitize and integrate e-tickets with Apple and Google Wallet.
Flights API for managing flights and boarding passes for Apple and Google Wallet.
One-click native system integrations with automation, CRM, and email platforms.
Mobile wallet APIs and SDKs to integrate Apple and Google Wallet passes into your apps.
What makes this tool unique
PassKit differs from other customer loyalty tools for the following reasons.
PassKit integrates with Apple Wallet and Google Wallet, which customers already use and trust, providing them convenience and safety when collecting points and redeeming rewards.
You can create various digital passes besides digital loyalty cards.
It eliminates the costs associated with printing and delivering paper or plastic loyalty cards.
It relies on permission-based marketing. You can promote and distribute your loyalty program with email marketing, SMS marketing, receipt marketing, in-store advertising, POP marketing, NFC payments, and more.
Integration with Zapier helps you automate specific processes and makes it easier to manage the program. For example, you can automatically add new members to a loyalty program when they sign up or send out rewards to customers when they reach certain milestones in the program.
Mailchimp integration helps you easily communicate with and send targeted marketing messages to loyalty program members, track the effectiveness of marketing campaigns, and drive more sales and engagement from loyal customers.
PassKit provides advanced analytics you can use to track and optimize your loyalty program performance. From the number of installed cards to the best distribution channels and most popular mobile wallets, PassKit has you covered.
Pros
It's contactless, so it's safe to use during the pandemic
It's a paperless system, so you're saving the environment
You don't have to code, design, or print anything
It is user-friendly and super fast to set up
It allows CRM and POS integration to track all loyalty data
It is scalable and affordable
Pricing is based on your business needs
It provides a 45-day to test all features
It provides 24/7 online support
It offers detailed guides and documentation
Cons
It doesn't provide a free plan
2. Loyalty Gator
Image source: GetApp
Loyalty Gator is a data-centric customer loyalty program software merchants use in 19 countries worldwide. It lets users create loyalty programs, gift card programs, and employee loyalty programs tailored to their specific needs.
With its web-based system, you can create unique promotions and gather detailed insights on your customers, such as their spending habits, preferences, and more. This system aims to help merchants build meaningful customer relationships, encouraging spending and loyalty.
Loyalty Gator supports card and cardless loyalty programs and integration with thousands of popular apps. Moreover, you can use the software as a stand-alone option because it does not require a point-of-sale connection.
Industries
Sporting goods
Marketing and advertising
Features list
Loyalty Gator offers its users:
Data security and daily backup
100% data ownership
Built-in reporting tool
Online loyalty program enrollment
Customer segmentation
Customer satisfaction meter
Targeted marketing
Integration with POS, payment processors, or website
Tracking for staff achievements
Importing customer transactions
What makes this tool unique
The software offers an advanced API that enables integration with a wide range of popular applications and systems. It allows you to create customized solutions to meet your specific needs and achieve your desired outcomes.
Pros
Easy to use
24/7 customer support
Variety of loyalty programs you can choose from
Cons
Some users find it challenging to integrate Loyalty Gator with their POS (point-of-sales), and POP (point-of-purchase) systems
Features may be too robust for customers that want simple functionalities
It can be pricey
3. Fivestars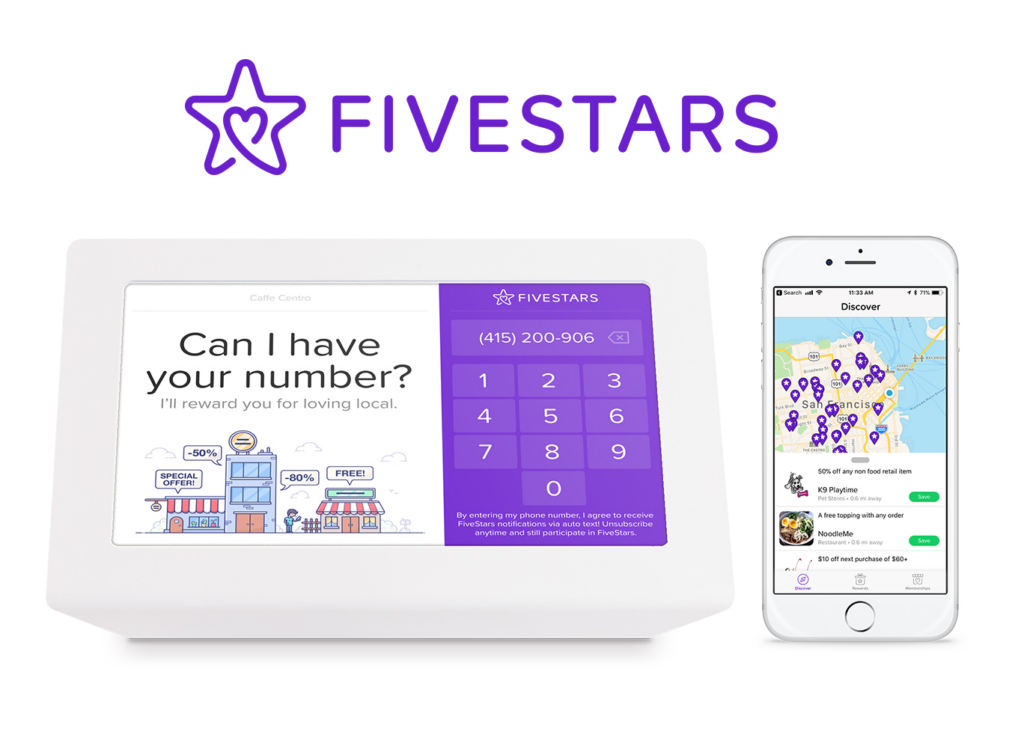 Image source: Security Magazine
Fivestars is a valid option in rewards program tools for customer acquisition and fostering brand loyalty.
Fivestars helps you reach your customers with automated marketing. You can send special offers and promotions to your customers tailored to their interests. It allows you to create targeted campaigns to get your customers' attention and drive sales.
Fivestar provides a solution to enhance customer engagement, monitor customer experience, and build loyalty. It helps you keep in touch with customers and track their shopping patterns. It also provides valuable insights to optimize your operations, increase sales, and improve customer service.
Fivestars offers email support and provides a knowledge base of helpful resources.
Industries
Fivestars caters to a variety of businesses, including
Restaurants
Clothing stores
Health, fitness, beauty, and wellness centers
Food and beverage businesses
Features list
Membership management
Rewards management
Activity tracking
Member portal
CRM integration
Credit card processing
ACH payment processing
What makes this tool unique
With Fivestars, you can build automated campaigns tailored to a specific audience. These campaigns focus on customers who have stopped frequenting your business, allowing you to reconnect with them and draw them back in.
You can ensure that your message reaches the right people—those who have shown an interest in your business before—and you can use this to increase customer engagement.
Pros
Easy to use and customer-friendly
Convenient loyalty reward tracking
Business owners gain more attraction and traffic, while customers receive discounts and bonuses.
Cons
Limited customer service language options (only English)
It doesn't offer a free trial option
4. Thanx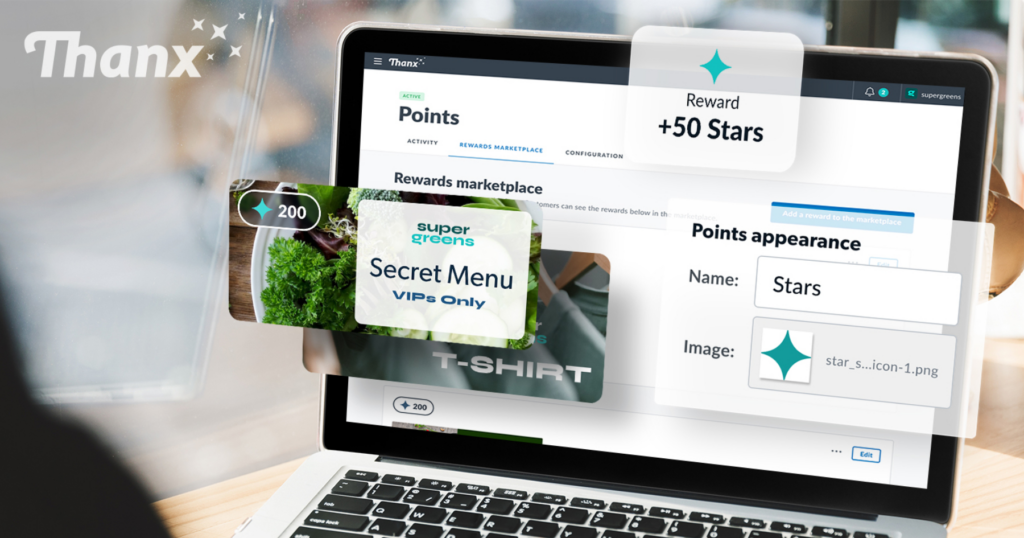 Image source: Restaurant Business Online
Thanx loyalty software helps you reward your most frequent and highest-spending customers. By capturing customer data, Thanx enables you to break away from traditional loyalty programs that often take a long time to provide value.
Rather than waiting for customers to commit, you can leverage data to quickly and easily get insights into customer behavior and preferences and create and deliver tailored loyalty initiatives that drive customer loyalty faster.
You can create more meaningful customer interactions by leveraging this data, improving customer satisfaction and loyalty.
It offers support via email, phone, and other helpful resources.
Industries
Food and beverage
Hospitality
Entertainment
Features list
Digital asset management
Headless CMS
Knowledge management
Mobile forms automation
Web accessibility
Gamification
Information capture
Built completely on APIs
Micro customer segmenting
What makes this tool unique
Thanx provides an innovative way to measure customer satisfaction and identify your most valuable customers. Its customer tracking feature helps you keep track of customer loyalty and reward those customers who continue to show dedication to your business.
Pros
Offers more direct interaction with customers
Customizable programs to meet unique business needs
User-friendly for both business and customers
Cons
Limited integration options
5. Kangaroo Rewards
Image source: G2
With Kangaroo Rewards, you can set up a loyalty program to increase customer engagement and make every customer's experience unique.
There are many options for your programs. You can start a tier system, reward customers for frequent visits to your store, or offer a points-per-dollar structure, giving rewards for certain amounts spent on purchases or specific products.
Kangaroo Rewards also lets you set up time-based rewards automatically. You can use this feature to give unique gifts or deals to customers on their birthdays or entice previous customers to come back with offers that are hard to resist. There's no limit on the type of rewards you can create, so you can come up with whatever works best for your business.
There's also a customer success team assigned to ensure you get the best out of the service.
Industries
Restaurants
Golf course
eCommerce
Wholesale
Retail
Pro-services
Features list
Personalized rewards
Gamification
Marketing
Customer experience tools
Reporting
What makes this tool unique
Kangaroo Rewards is fully customizable, allowing you to set up loyalty programs in multiple languages. It also provides a dedicated program specialist to guide you in setting up and running custom programs.
Pros
Reduced time in setting up programs with effective results
Easy to learn and navigate
Designated customer success team
Cons
Analytics could be improved
6. Yotpo
Image source: G2
Yopto is a loyalty platform that provides customers with rewards for referring their friends and family. With Yopto, customers can choose the best way to share their referrals through email, social media, or other channels.
The platform also provides an intuitive dashboard to track their referral program, making it easy to stay up-to-date on their rewards. Using Yopto, customers can easily share their referral links, track their progress, and receive rewards for successful referrals.
Yotpo offers CRM, POS, and other third-party integrations like Google, Instagram, and top eCommerce platforms. It has a reliable support team and offers helpful resources, including a community of users to help resolve problems.
Industries
Fashion
Beauty
Home and Garden
Fitness
Features list
SMSBump
Loyalty program
Referrals
Visual UGC
Subscriptions
Reviews
What makes this tool unique
Yotpo leverages referral marketing to reward loyal customers. With its SMSBump feature, you can text your customers as you know them and send helpful notifications. Also, you can track and optimize every engagement you get.
Pros
Helpful features
Easy to install
POS and CRM integrations
Cons
Setup can bit a bit confusing because of many features
Limited on-site customization
7. Talon.One
Image source: G2
Talon.One is a loyalty platform that allows brands to connect with their customers through several touchpoints with its customizable rule-based engine.
You can track and manage gift cards, coupons, discounts, and digital wallets with Talon.One. It is helpful for B2C businesses that want to give their customers personalized experiences and incentives.
Talon.One allows you to integrate your POS and CRM platforms easily. Customers can also store their points or stamp cards in their digital wallets.
Talon leverages the following reward systems
Tier-based
Point-based
Exclusive membership programs
Talon.One offers support via email and a repository of helpful blog posts.
Industries
Retail
Marketplace
Travel
eCommerce
Telecomms
On-Demand
Features list
Wallet solutions
Geofence marketing
Promotion engine
Referrals
Coupons
Discounts
Loyalty software
Code generator
What makes this tool unique?
Talon is a helpful promotional tool that allows you to build customer loyalty and create brand awareness simultaneously. It also has a code generator that brands can use to create discount codes for their customers.
Pros
Offers digital wallet integration
Has a range of helpful features
Helpful support
Cons
No pricing information on the website
The slight learning curve for beginners
8. Voyado
Image source: G2
Voyado is a loyalty platform created with retailers in mind. It helps small businesses find solutions to improve customer loyalty, retail marketing automation, and online campaign management.
Voyado offers a tier-based reward system that leverages gamification to entice and keep customers. It has a customer data platform where you store customer data to optimize customer experience.
This tool provides an in-built CRM hub and allows you to integrate the third-party POS system of your choice. Support is available via phone, email, and a knowledge base of helpful resources.
Industries
Health and wellness
Fashion
Home decor
Retail
Cycling
eCommerce
Features list
Customer data platform
Campaign management
Insights and reports
Marketing automation
POS integration
What makes this tool unique?
Voyado combines marketing automation, helpful campaigns, and customer loyalty programs to make your brand easy to love.
Pros
User-friendly
Helpful customer support
Intuitive email auto-responder
Good for analytics
Cons
Processing speed could be better
No details on pricing
No free trial
The data reporting system can be overwhelming
9. Talkable
Image source: G2
Talkable is a single-source referral and loyalty marketing software that helps businesses to create customer experiences that will help increase brand affinity and engagement.
Not only does this tool help you to target and reward your most valuable customers, but it also helps you drive better sales. Its in-depth customer data analysis allows you to get and keep high-value customers.
Talkable offers support via emails and provides customers with a blog of helpful resources. It doesn't provide detailed pricing information, so we can't discuss its affordability.
Industries
Beauty and cosmetics
Health and wellness
Fashion
Food and beverages
Features list
A/B testing
Data and reporting
Mobile app
Customer segmentation
Data privacy
Fraud protection
Customer service portal
What makes this tool unique
Talkable offers both customer loyalty and referral marketing solutions to businesses to help them grow. Its customer success team allows businesses to create and launch marketing campaigns that convert.
Pros
Mobile app
Points and tiered-based rewards systems
Fraud protection
Cons
No clear pricing option on the website
The free plan includes limited features
No free trial
10. Piggy
Image source: Capterra
Piggy is an inclusive customer loyalty software that helps small businesses and franchises build reliable reward programs. With Piggy, you can collect essential customer data and automate your workflow and marketing processes through its built-in CRM.
Piggy allows you to integrate your POS, email, and social media platforms easily to give your customers a unique experience. You don't need web development or coding skills to start your reward framework with Piggy because it is easy to use.
Piggy leverages the point-based, tier-based, and VIP membership systems to give customers rewards ranging from
Coupons
Badges
Gift cards
Discounts
Personalized experiences
This software offers support via live chat and a repository of helpful resources.
Industries
Restaurants
eCommerce
Fitness
Food & beverages
Features list
Automated notifications (email and SMS)
Detailed reports
Data collection
Different reward options
Online widgets
What makes this tool unique
Piggy is an all-in-one platform for loyalty marketing. It doesn't just help improve customer loyalty but also provides tools necessary for employee and brand loyalty. It rewards both customers and businesses that use its platform.
Pros
Intuitive user interface
Affordable
Has challenges that boost customer engagement
Helpful support
Hybrid loyalty software (point-based, tiers, VIP membership)
Cons
Its many features can be overwhelming for users
It doesn't work on every POS system
Customer loyalty program software: The comparison table
Regarding customer loyalty, having the right software can make a big difference to your business. To help you find the perfect one for your needs, we've compiled a list of the ten best customer loyalty software solutions available.
Each solution offers something different, from rewards and points tracking to customer analytics and automated loyalty programs. Here's a quick breakdown of their features.
PassKit
Loyalty Gator
FiveStars
Thanx
Kangaroo Rewards
Yotpo
Talon.one
Voyado
Talkable
Piggy
User Rating
4.5 / 5on G2
4.4 / 5on G2
5 / 5on G2
4.1 / 5 on G2
4.3 / 5on G2
4.6 / 5on G2
4.8 / 5on G2
4.5 / 5on G2
4.9 / 5on G2
Best used for
Loyalty cards, stamp cards, coupons, event tickets, boarding passes
Gift cards, rewards, and loyalty programs
Promotions, marketing automation, payments
Rewards
Gamification, rewards, reporting
Reviews, referrals, subscriptions, loyalty rewards
Code generation, promotion, referrals, gift cards, wallet solutions
Rewards, gamification, membership levels
Personalized experiences
Gift cards, giveaways, partner offers, coupons, discounts
Zapier integration
Yes
Yes
No
No
No
No
No
No
No
Yes
Mobile wallets integration
Yes
No
No
Yes
No
Yes
Yes
No
No
No
Advanced analytics
Yes
Yes
Yes
Yes
Yes
Yes
Yes
Yes
Yes
Yes
Customer support
Yes
Yes
Yes
Yes
Yes
Yes
Yes
Yes
Yes
Yes
Free trial
Yes
Yes
No
No
Yes
No
No
Yes
No
Yes
Free plan
No
No
No
No
No
Yes
–
No
Yes
Yes
Pricing(per month)
From $39 for 250 single-use and 250 multi-use passes monthly
From $88
Available on request
Available on request
Loyalty essentials – $59
Engagement package – $99
Ultimate – $199
Ultimate plus – $299
Gold- $249
Platinum – on request
Enterprise – on request
Available on request
Available on request
Available on request
Starter-£40
Pro- £127
Enterprise- £266
Customer loyalty program software: Our verdict
Today, companies understand the need for customer loyalty software to increase user retention and boost sales. This software provides customers with a streamlined and seamless experience with loyalty programs.
With customer loyalty software, you can ensure customers have a pleasant and rewarding experience when participating in loyalty programs, leading to greater customer satisfaction and loyalty.
We recommend PassKit as the best loyalty software for anyone looking to increase customer loyalty for their business. PassKit is easy to use and fast to set up.
You can easily design and distribute your loyalty program and integrate it with Apple Wallet and Google Wallet without significant investments. Thanks to Zapier information, you can use PassKit with your existing apps and enhance the features your loyalty program provides.
It also allows you to integrate your POS and CRM software, making it an omnichannel platform to track all loyalty data. PassKit cares about sustaining the environment, providing digital loyalty cards, and supporting contactless payment options.
Start your 45-day free trial now.
FAQ about customer loyalty software
We have researched some of the most common questions about customer loyalty software. Here are our answers to help you make informed decisions.
1. How do you track customer loyalty?
There are several ways to track customer loyalty:
Customer loyalty programs: Many businesses offer loyalty programs in which customers earn points or rewards for making purchases or engaging with the company in other ways. You can use these programs to track customer loyalty by tracking the number of points or rewards earned over time.
Customer surveys: Conducting customer surveys can provide valuable insights into how loyal customers feel about your business. You can ask questions about their satisfaction with your products or services, their likelihood of recommending your company to others, and their overall level of loyalty.
Customer retention rate: Your customer retention rate is the percentage of customers who continue to do business with you over a given period. Tracking this metric can provide a good indication of customer loyalty.
Customer lifetime value: Customer lifetime value (CLV) is the estimated amount of money a customer will spend on your products or services over their relationship with your business. Tracking CLV can help you understand how valuable loyal customers are to your business.
Customer behavior data: Tracking customer behavior data, such as the frequency of purchases and the amount spent per purchase, can provide insights into customer loyalty. For example, customers who make frequent purchases and spend more per purchase may be more loyal than those who make infrequent purchases or spend less.
Also, you can track customer loyalty easily by using customer loyalty management software.
2. What is the most popular loyalty program?
Some of the most popular loyalty programs include
The Sephora Beauty Insider loyalty program (Tier-based program)
Starbucks Rewards loyalty program (Point-based program)
Amazon Prime membership program (Paid loyalty program)
3. What are the 3 Rs of customer loyalty?
The three R's of customer loyalty are
Rewards make the rewarding process easy for customers to encourage them to participate because no one wants to jump through hoops for prizes.
Recognition makes your customers feel special by appreciating and recognizing their efforts.
Relevance includes creating meaningful customer experiences by leveraging customer data.
4. Is CRM a loyalty program?
CRM isn't a loyalty program, but it plays a critical role in customer loyalty because it enables business owners to build great customer relationships. With CRM, you can collect, manage and organize customer data, which can be incorporated into your loyalty program.
CRM helps you deliver value to your customers through relevant offers.