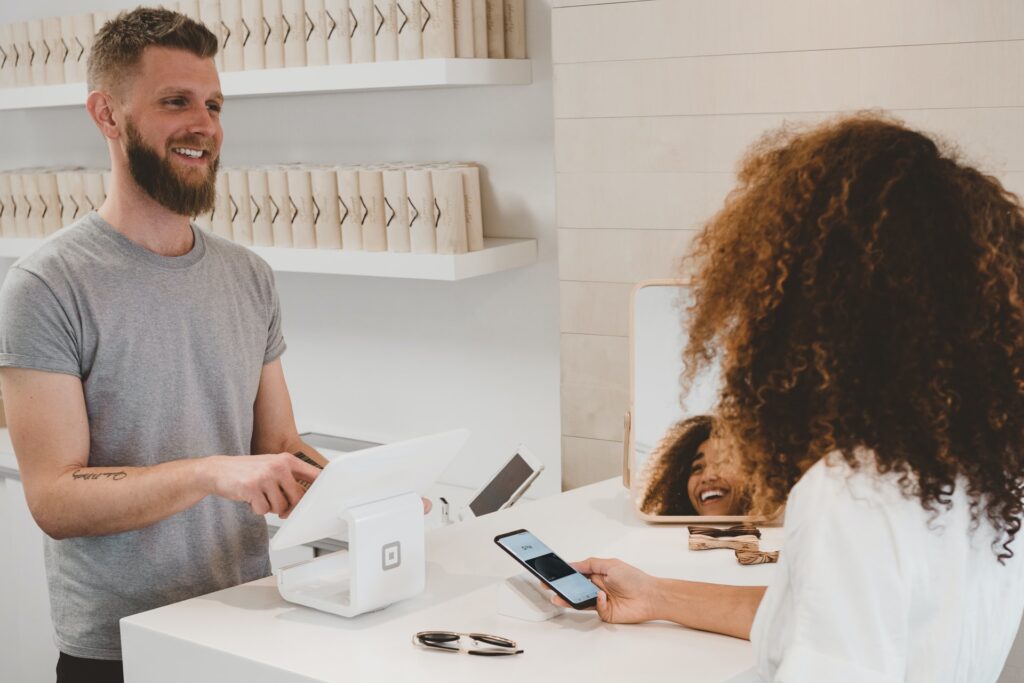 The use of non-plastic payment options is increasing as COVID-19 keeps its hold and continues to impact consumer behavior. Is this, however, the end of an era of plastic loyalty cards for business?
Our team had the opportunity to explore and test some of the unique techniques to create digital loyalty cards while developing the PassKit platform. As a result, we gained insight and a better grasp of what businesses require, and that is why we are here today to help you.
To begin with, digital loyalty cards are more environmentally friendly than traditional cards, and users can never misplace them. Now let's see how both of these cards perform, their pros and cons, and their history. Let's dive in.
How did the pandemic impact digitalization?
For several years now, forecasts have suggested that plastic cards and other forms of physical transaction will become outdated. Theories about how much longer we will be handling cash in our wallets, on the other hand, have always been a hot topic among business professionals.
While digitalization is undeniably vital in creating digital alternatives, recent worldwide events as a result of the pandemic have shown a new set of potential for quick consumer behavior changes.
Many nations adopted precautions to protect their residents during the start of the global outbreak, resulting in different degrees of isolation. The immediate result was, of course, a significant reduction in both expenses and cash use.
During the outbreak, the ability to pay with a contactless card was extremely popular due to a rapid change in customer payment behavior. According to new Visa statistics, contactless cards were used in 73% of all transactions globally last year.
Moreover, there are existing technologies that everyone can use to replace plastic cards. Additionally, while solutions such as QR codes, NFC, and short-lasting PINs have been present for some time – actual uptake and commercial breakthrough appear to have occurred on a worldwide scale after the outbreak began.
According to statistical data, 86% of first-time contactless converters believe they will continue to use non-contact payments in the future. This trend could signal the extinction of both cash and plastic cards soon.
Predictions of digital loyalty cards for business
Before the outbreak, the popularity of mobile wallets had been increasing. In 2019, countries like France, Italy, and Germany had about 150 million mobile phone users. By 2025, it is estimated that 80% of operations will be completed via internet-connected gadgets.
E-wallets are predicted to be the second most popular payment method behind cards and the most popular among Millennial consumers. So, COVID-19 and the severe steps adopted have enabled changes to occur that would otherwise take years to bring the place under ordinary circumstances.
Now, are physical cards set to become useless due to mobile phones? Or will the plastic make a comeback?
According to pre-pandemic polling data, numerous people were unwilling to give up their gorgeous leather wallets. To see if this becomes a realization, we'll have to keep a close eye on consumer behavior patterns, as well as the rapid digital rise of payment technology.
When everything returns to normal,if it ever does, a consumer-driven, subtly different transaction trip may be waiting for us. We bet on days spent without using plastic cards, scanning watches rather than putting chips, and displaying QR codes at a self-service instead of waiting in line.
With these intriguing statistics and insights that we've covered, let's move on to the battle, plastic vs digital loyalty cards; which is better? What can we gain from digitalization? And even more questions and answers that await us!
Loyalty cards for business: Plastic vs digital cards
For example, most people in the UK belong to an average of eight loyalty schemes, demonstrating that customers' purchasing habits are still changeable. To achieve a competitive edge, we will analyze the advantages of a digital loyalty program throughout this article.
Plastic loyalty cards
Conventional, non-digital loyalty programs are extremely easy to set up. These cards are well-known among clients, and they are simple to use. But how often are loyalty cards misplaced or forgotten at home?
As shops try to keep clients they gained during the outbreak, and shopping centers try to entice buyers back to malls, the modest plastic loyalty card is becoming extinct. And we have examples from all around the world for this.
From Coles' and Wesfarmers' Flybuys and Woolworths' Everyday Rewards to Qantas' Frequent Flyer, Virgin's Velocity, and Priceline's Sister Club, Australians have signed up for 98 million loyalty programs, or an average of 4.4 each.
Standard stamps and plastic cards may appear less expensive, but they are neither practical nor affordable. The expenses of acquiring loyalty cards can add up fast, and with clients forgetting and losing them, the business gets little return on investment.
Most importantly, there is no way to monitor your return on investment (ROI) with a physical stamp card or plastic card loyalty program. For example, physical punch cards have the disadvantage of being difficult to track and evaluate.
How do you tell if your reward program is effective? Is it a good investment? Could a minor change to the punch card inspire more people to visit your shop? These are all questions that are nearly hard to answer with actual punch cards because you no longer have control over them once they depart your organization.
Many organizations who want to run their own loyalty program are unsure whether the traditional card approach or the digital loyalty card method is preferable. To get answers to this topic, you must evaluate the advantages and disadvantages of each technique.
First, physically issuing cards is a time-consuming process. You must be sure that you have sufficient cards prepared and ready to present to all of your loyal users. You'll also have to pass a new card to your consumers if the card is full of stamps or if they lost their loyalty card. And if you want to personalize physical loyalty cards, you either need your own plastic card printer or manually write your customers name and details on a blank card. Hardly efficient and certainly not very professional looking in today's user experience oriented environment.
The old cards are returned in exchange for a reward, present, or discount. Not to mention that every third client complains about losing their card or forgetting to bring it with themselves. Traditional rewards systems are undoubtedly simple to set up, but they lack the flexibility and ease that digital reward programs provide.
Loyalty cards for business: cons of plastic loyalty cards
The following are some of the disadvantages of plastic loyalty cards for businesses:
Costs of production: the cost of printing loyalty cards gets expensive, especially if they need to be personalised. And you need to factor in updated designs or people who lose them.
Data shortage: a limited representation of clients' overall purchasing habits.
Redeemability is low: plastic cards that are frequently misplaced or forgotten are more certain to go unused, making loyalty ineffective.
Environmentally unfriendly: with the modern consumer looking to shrink their carbon footprint and the amount of plastic they consume, plastic loyalty cards don't fit with a contemporary brand.
Moving on to digital loyalty cards and generally digital cards, we hope to give you more information on how the digital world is evolving and getting bigger!
Digital loyalty cards
It's not only about offering customers loyalty points when they make a purchase when you go digital. It's an opportunity for you to promote your other products and services. Products and services they may not know about yet. An opportunity for you to give your customers more; not just more points, but more of what they need. As a result, many businesses realized the value of delivering deals to their clients and driving additional sales while regular business slowed down in 2020.
It is critical to be able to interact with the customers to grow and survive. And with less face to face time these days, you need to connect via as many channels as possible. Some businesses may even opt for time-saving marketing techniques that may keep customers coming back after they've made a purchase, as well as allowing loyalty for online transactions.
Digital card systems do not require physical cards because digital loyalty cards are easily maintained on the clients' mobile devices. Also, thanking consumers with points is simple because you can instantaneously transfer points from your digital loyalty program profile to their account.
Loyalty cards for business: pros of digital loyalty cards
The following are some of the major advantages of digital programs and cards:
Customization: Using digital programs, companies may add a personal touch to their cards. Customers can see their name every time they go to Apple Wallet/Google Pay to use their card. Personalization aids in the development of strong relationships with clients and helps firms spark potential brand loyalty in consumers.
Monitor customer behavior: Businesses benefit from digital rewards programs since they can watch their consumers' behavior. For example, companies can receive a detailed image of a customer's purchasing patterns once their transactions are tied to an online account. That data can be needed to produce unique offers and programs to lure customers to the business.
Data tracking in real-time: firms can easily monitor and change their campaigns based on the new behavior of their clients because data from each client is gathered in real-time.
Future-oriented: Artificial intelligence and machine learning are prevalent in today's world. We must be prepared for future technological advancements. A digital reward program allows you to update your program and stay current with technology trends. That is critical since every giant company is currently preparing for future technological developments or is doing so. As a small business, you must also be prepared to enjoy all the benefits of technological innovations.
Do you see what we wanted to point out? Digital is truly a way to go. Moreover, let's see some additional advantages of digital loyalty cards.
Immediate satisfaction
In a speedy environment where data and updates move at the speed of light, the new customer needs rapid gratification. In the days gone, customers had to visit a store, submit their loyalty cards to a brand manager, and wait for the approval. In comparison, digital loyalty cards are as fast and simple as a tap!
Users also do not have to wait while subscribing for or extending a digital card membership. In addition, customers should not have to wonder how a loyalty system works because the procedure is simple and error-free.
The inconvenient process of waiting for a postal loyalty card may not attract today's customers, who may choose to switch to brands that offer digital loyalty programs.
Saving the planet
Brands must spend constant material costs and shipping charges when using physical loyalty cards. By embracing digital, firms may cut costs while also contributing to environmental protection by eliminating waste from single-use promotional goods. In addition, a digital loyalty card system allows businesses to communicate with clients while still being environmentally friendly.
Make the most of the smartphone
The bulk of modern internet buyers shops from the convenience of their smartphones. With a mobile-friendly digital loyalty card, every small company can reach a wider audience.
The key to success will always be getting clients to download an app. If you can, give them a reason to install it right away – a complimentary hot beverage, a money discount, or whatever of value to them. They're yours as soon as they install the app.
For example, PassKit offers digital loyalty services that are easily accessible through Apple Wallet and Google Pay, allowing users to have a seamless experience without the need for onboarding.
Check one of PassKit's sample passes today to learn how a leading digital card loyalty program can help you improve client attraction and retention!
Now let's see how both small and big businesses used the best out of digital loyalty cards and apps to boost their success.
Loyalty cards for business: Examples for small business
How do businesses use loyalty cards? A number of companies have previously implemented digital loyalty cards and programs to expand their client base while also boosting their goods and services. Let's see some of the best examples.
AGO – digital membership card
The Art Gallery of Ontario is one of North America's most prestigious art museums, with a collection of over 90,000 works of art!
The AGO is transitioning to digital membership cards, which are both ecologically sustainable and convenient. The card is kept in the Apple Wallet app on your iPhone or the Wallet Passes app on your Android phone, and it is available at all times.
That helped them make the most out of the pandemic and get back on track!
BOXPARK Black Card – digital card solution
With the help of PassKit, this modern loyalty card was created. It's a cost-effective option for smaller firms who don't want to spend as much money on rewards app management as McDonald's but want a useful and attractive solution!
They have almost one million members! Watch how it works in practice here.
Inheritance Juicery – digital loyalty card
A fantastic example of how a local Smoothie & Juice Bar used the full potential of digital loyalty cards. And it is so easy to join! You simply click on a link and complete the form. Your Google or Apple wallet will be updated with the membership card. Then you can scan the card at checkout to earn points toward extra rewards and add them to your account.
We must agree, these companies are making the best out of digital loyalty cards and apps! So if you wish to get a digital loyalty card for your business, PassKit is here to help you!
Loyalty cards for business: Get started today
PassKit is a customer loyalty software that allows businesses of any size to take advantage of their consumers' knowledge and trust with Apple Wallet and Google Pay. During the COVID-19 Pandemic, awareness, and usage grew at an exponential rate.
PassKit assists you in rewarding customers and closing the gap between their online and offline activities. It provides the simplest method for converting physical store cards and coupons into digital passes that your clients can keep and use with their built-in digital wallet without downloading an app.
Apple Wallet and Google Pay Passes are frequently used to create digital loyalty cards. With just a few clicks on the smartphones, your customers can accumulate points throughout time, see all of their rewards in one location, and utilize them in real-time when they're in your shop, café, or restaurant.
When you incorporate the PassKit loyalty program into your company, you'll be able to track the circulation and success of your passes right away. In addition, PassKit is very simple to integrate with your POS and CRM software, so you won't have to replace any existing software.
You simply integrate PassKit into your company operations and provide your consumers with digital loyalty cards. To create your contactless loyalty rewards programs, you don't need any coding knowledge, complicated programming, or advanced installation.
How do I create a rewards card for my business?
The online application from PassKit enables you to develop and deploy your reward program quickly. It's simple to use, and creating and tracking awards takes only a few minutes. Let's go over each step one by one!
Create a free PassKit account by going to the website.
Choose whether you want to make a loyalty card, a membership card, or a coupon card for your project.
Select how the cards should appear to Android and Apple users. PassKit ensures that your design conforms to the most up-to-date Apple Wallet and Google Pay design guidelines.
Pick a barcode type if you wish to scan the loyalty card at your POS or with the PassKit PassReader.
Include graphics like your logo and the hero image.
Pick colors you want to apply.
Fill in the blanks for your template.
Include valuable sections and backfield data.
Include helpful links like social network profiles, official websites, and so on.
The next step? Save and download your design. That is all there is to it! Truly simple, and if you get stuck at any point, help.passkit.com has a wealth of easy-to-follow tutorials.
You're now set to provide your clients with a fantastic experience that will keep them coming back for even more!
It gets even better with the PassKit app, as it is:
Contactless, so it is safer to use during a coronavirus outbreak.
Paperless, which is good for the environment.
Simple, nothing needs to be designed or printed.
Easy to set up, which saves you time.
CRM and POS-friendly, allowing all loyalty data to be tracked.
If this appeals to you, try it out today by clicking here.
Conclusion
Based on the facts we included in our article, it seems that card-based loyalty programs with additional smartphone apps are the best pick for businesses wishing to build their own. An app-based loyalty card may be more effective if your consumer base is primarily made up of younger, digitally intelligent people. On the other hand, a more conventional card-based solution will likely experience more usage if your consumer base is older people.
We hope that our comprehensive article made you act today. As we in PassKit, carefully researched and studied this topic to make it easier for you. You can begin to grasp the vast potential of a successful digital loyalty card by considering everything we listed above and evaluating your client base. We wish you all the luck in your journey!
FAQ
Why are loyalty cards good for a business?
Since companies are well-known for using loyalty card data to learn about their customers' habits, retailers can better understand customer behavior. And then change it by using targeted marketing and product organization to drive more sales.
What are business loyalty cards?
Businesses use loyalty cards to entice consumers to return to their place for repeat purchases. Clients get a point on their digital loyalty card for every purchase they make and can later use the points for discounts, free items, and more.
Are loyalty cards effective?
Yes, they are, and the most incredible thing is that they benefit all parties involved. In fact, 75% of customers say they're more willing to buy from a business again after having some form of reward.
What are the disadvantages of loyalty cards?
If you use digital loyalty cards, there are truly no disadvantages. However, if you stick to the physical plastic cards, these are some disadvantages: additional time at the shop/store, privacy concerns, investing a lot of money, and more.