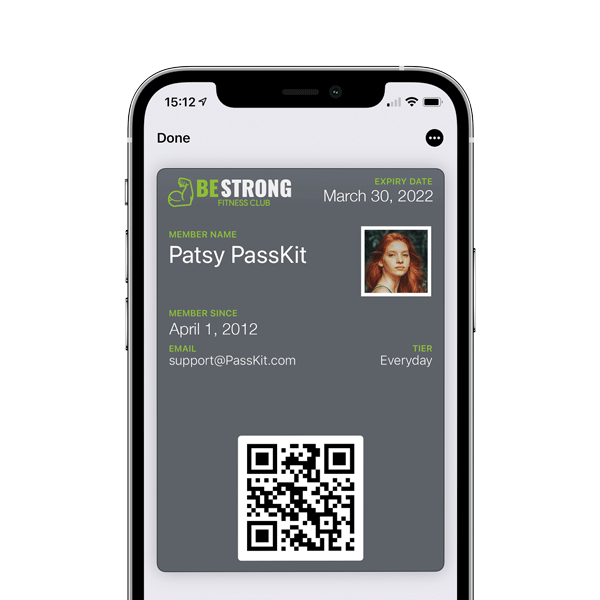 Keeping track of paper or plastic cards can be unsettling, and losing them can be a nightmare.
Fortunately, with the development of digital membership card apps, people can now store their cards in one place and access them effortlessly.
Using a digital membership card app like PassKit makes creating digital membership cards easy without requiring custom app building, design skills or coding experience.
Your program members can seamlessly store and use these cards with Google Wallet or iPhone's Apple Wallet, promoting contactless shopping and providing a more connected customer experience.
To see PassKit in action, create your free account.
In this article, we'll discuss the benefits and features of digital membership card apps and how they can simplify your business processes.
We'll also show you how to use PassKit to create an optimal digital membership program using mobile wallets.
Let's get started.
What are digital membership cards?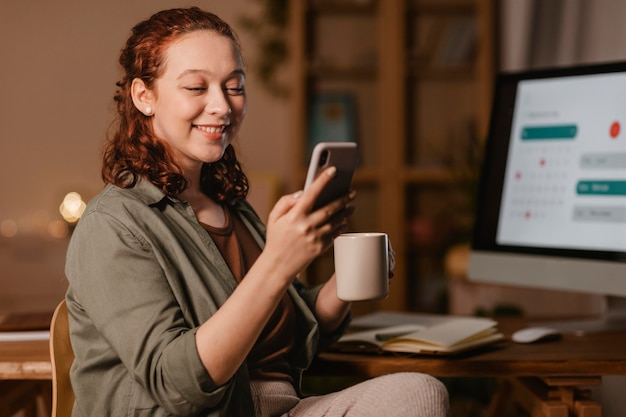 Image source: Freepik
Digital membership cards are virtual cards accessible on digital devices like smartphones, tablets, and computers.
They are electronic versions of paper or plastic membership cards, and members can use them to access the benefits and perks of a membership program.
People can conveniently display their membership information and enjoy exclusive offers and discounts by accessing digital membership cards through mobile devices.
You can also personalize these cards with member-specific information, such as a name, membership level, and expiration date.
Digital membership cards offer many advantages over traditional physical cards, such as increased convenience, reduced costs, and improved environmental sustainability.
Additionally, you can easily update or renew digital membership cards and link to other digital services or loyalty programs.
What are digital membership programs?
A digital membership program operates entirely online.
You can use it to offer benefits, such as exclusive access to digital content, discounts on products and services, personalized recommendations, and other perks available only to program members.
You can build a loyal customer base and provide additional value to your customers. These programs are becoming increasingly popular due to their convenience, cost-effectiveness, and ability to offer a personalized experience to members.
Digital membership programs can also provide valuable data on customers' behaviors and preferences to help you improve your products and services and create more targeted marketing campaigns.
What is a digital membership card app?
A digital membership card app like PassKit enables you to create, manage and distribute digital membership cards. You can customize card templates to match your branding.
The app allows you to add features such as discounts and rewards tailored to the specific requirements of your members.
Once the cards are ready, you can distribute them via multiple channels, and customers can automatically download them on their mobile devices.
Digital membership card apps simplify the process, eliminate the need for physical cards, and provide a seamless customer experience.
These apps can also reduce costs associated with printing and distribution, making them an attractive option for businesses looking to optimize their membership programs.
How does a digital membership card app work?
Digital membership card apps help you manage your membership programs more effectively, handling sign-ups, renewals, and updates.
These apps also allow tracking of consumer behavior and preferences, informing marketing and sales strategies customized to individual customer data.
Moreover, digital membership card apps use real-time communication channels between companies and customers.
By sending push notifications to users' mobile devices, you can provide up-to-date information about membership status, exclusive deals, and other relevant updates.
This approach strengthens the relationship between you and your customers, promoting customer loyalty.
Let's now share all the essential features of a digital membership app and explain how PassKit covers all your business needs.
16 features of the digital membership card app
Physical membership cards have become outdated as people now prefer storing their membership cards on their mobile wallets using new technology.
Carrying pieces of plastic or paper is inconvenient when digital options are readily available.
Brands also enjoy the endless possibilities of membership card apps. Let's share the most important ones.
Create and customize membership cards to fit your brand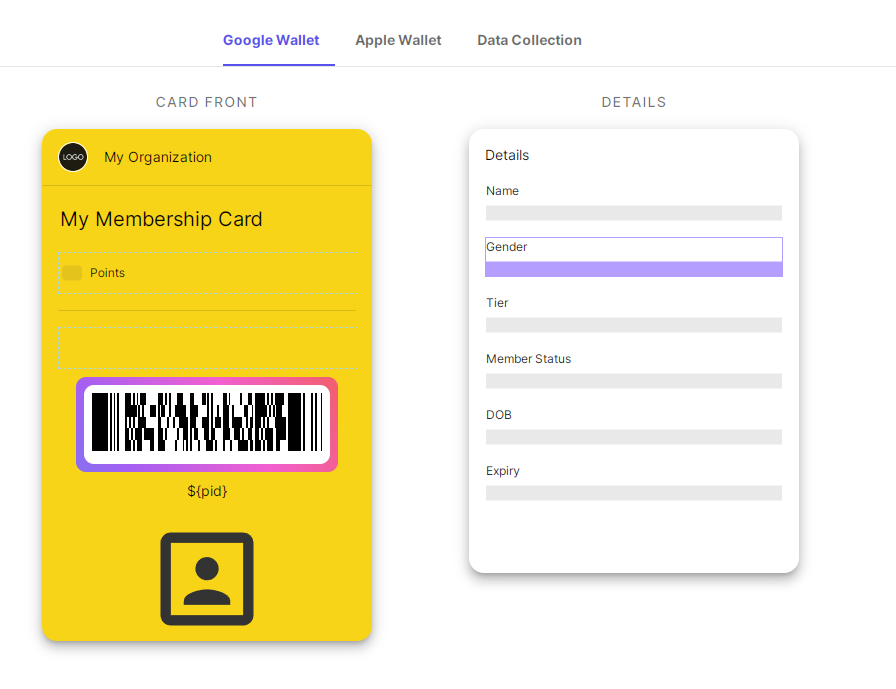 A digital membership card app allows you to choose from various design templates or create a custom design.
With PassKit, you can use our Pass Designer.
We provide you with membership card templates aligned with Google and Apple guidelines. You can add your logo, brand colors, images, barcode and custom and advanced fields to collect customer data.
You can also customize membership benefits and suit the program to your audience's specific demands and preferences.
Allow members to redeem rewards and points anywhere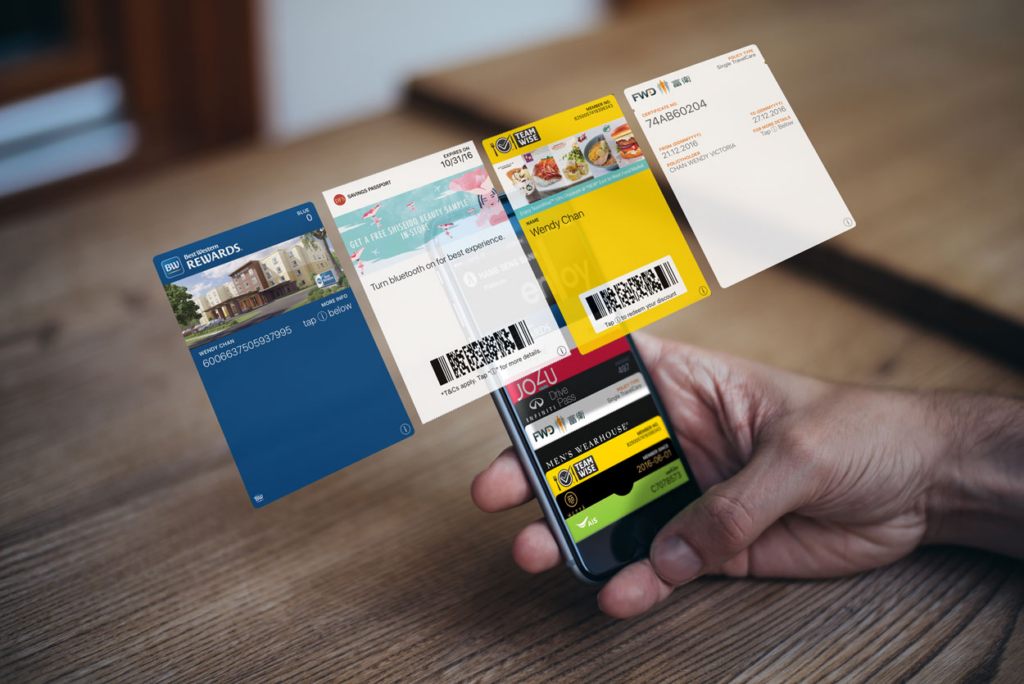 Traditional physical membership cards may limit your members from redeeming rewards or points at specific locations or periods.
With PassKit, your program members can redeem their rewards and points from anywhere as long as they can access their mobile devices.
It offers greater flexibility and convenience. Members no longer need to physically visit a specific location to redeem their rewards, which saves them time and effort.
It also enhances their overall experience with your membership program, which can improve customer loyalty.
Automatically award rewards and points based on member behavior

PassKit helps you streamline the membership program, making it easier and more efficient for members and program administrators.
You can automatically award points or rewards to program members for their online or offline actions.
It provides members with a high level of convenience, as they no longer need to worry about tracking their activities or manually submitting receipts.
It also ensures that members receive the correct points or rewards for their behavior without the risk of human error.
Start your free trial now to see how it works.
Personalize the membership experience for each member
PassKit makes your program more appealing.
It helps you create personalized, relevant, engaging experiences, making program members feel valued and respected.
Our digital membership card app enables you to track members' preferences and behavior and use that information to tailor the experience according to their personal needs and interests.
Segment and target your customers with laser precision
PassKit enhances the effectiveness of your marketing campaigns by personalizing your marketing approach and ensuring that the right message reaches the right audience.
Collecting data on members' behavior, interests, and preferences allows you to segment them into different groups and target each group with specific marketing messages and promotions, increasing the likelihood of their engagement.
Track and analyze customer behavior in real-time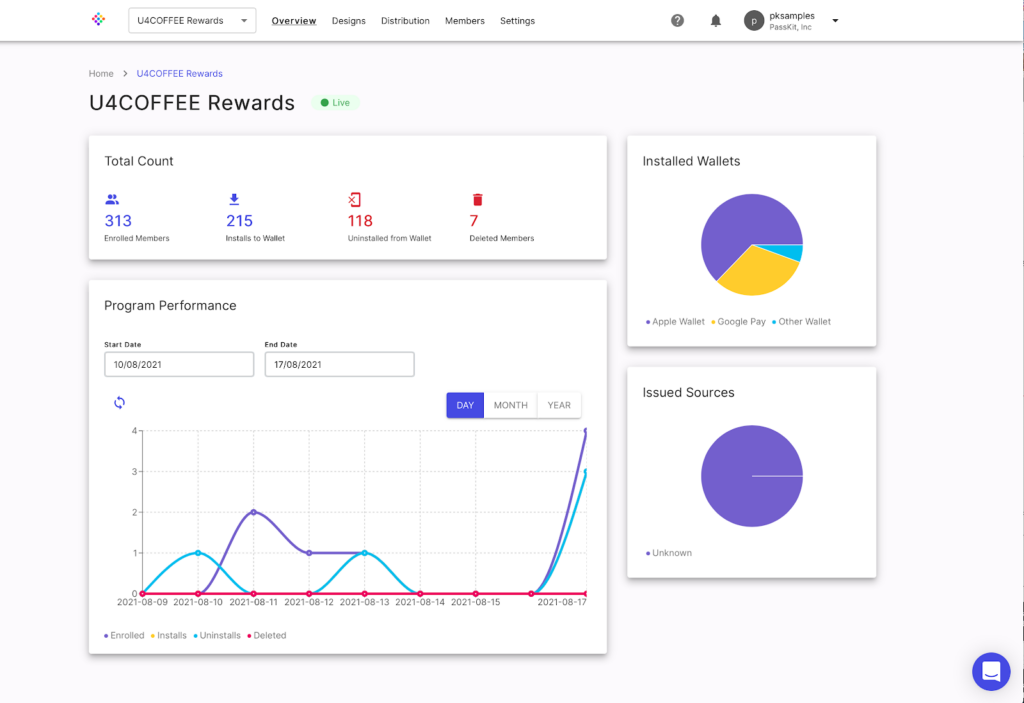 PassKit gives valuable insights into how members interact with your program, what interests them, and which distribution channels are most effective.
With PassKit, you can track loyalty program data such as
Total count: The number of members enrolled and the number of cards installed, uninstalled, and deleted from your program
Program performance: It demonstrates how well your program performs by day, month, or year
Digital wallet providers: It shows whether your customers are using Apple or Google Wallet
Installed sources: It shows which distribution sources bring you the most members
Detailed analytics helps you make data-driven decisions on optimizing the membership program and driving customer engagement.
Manage member profiles, rewards, and activity history
A digital membership card app simplifies membership management by allowing you to easily access members' profiles, update their personal information, and add or remove rewards, points or tiers.
PassKit provides an activity history feature with a detailed record of each member's engagement with the program, including their purchase history, redemptions, and interactions with marketing messages.
You can analyze this information to identify trends and patterns, optimize your program, and improve its effectiveness.
Sign up today to evaluate this feature.
Engage members with push notifications and location-based alerts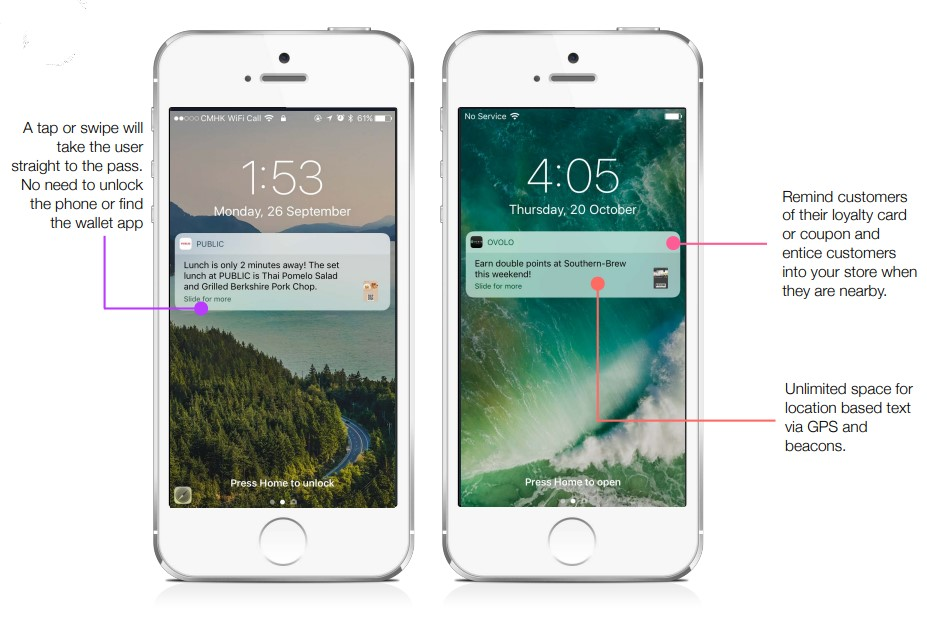 One of the critical features of a digital membership card app is the ability to engage members with push notifications and location-based alerts.
Using PassKit, you can inform members about upcoming events, special promotions, or similar activities. You can personalize these notifications, increasing engagement and participation.
PassKit also allows you to encode several business locations into your cards.
When people come to the proximity of your company, you can send them location-based alerts about their membership and encourage them to pay a visit.
Distribute membership cards across multiple channels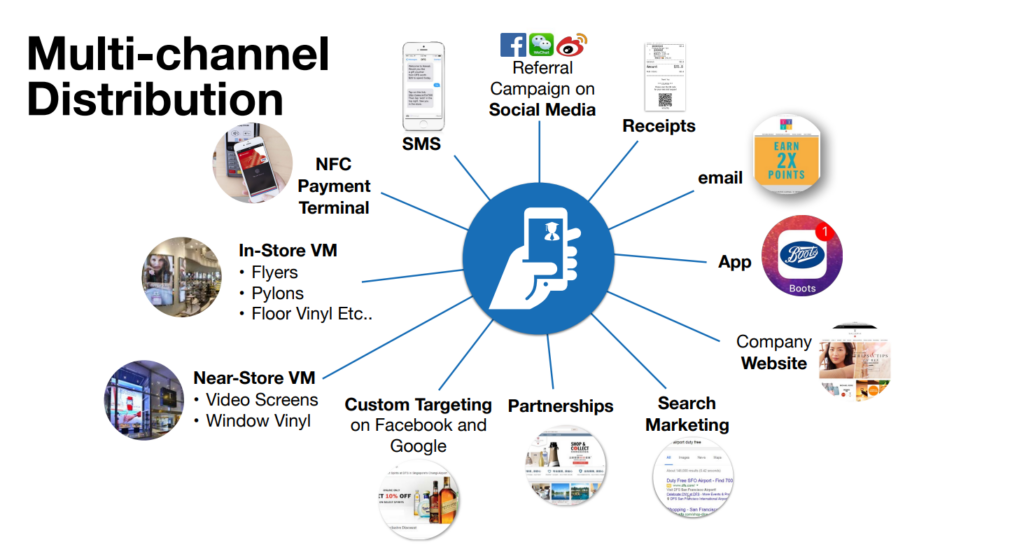 You can distribute membership cards through various channels using a digital membership card app.
PassKit provides members easy access to your membership program, regardless of location or preferred communication channel.
You can promote your membership platform, digital membership cards, loyalty program cards and digital tickets using:
Email marketing
Company website
Search marketing
In-app advertising
Receipt marketing
Social media referrals
Custom targeting on Facebook and Google
Since PassKit is a digital membership solution with a built-in system for multichannel distribution, it significantly increases your organization's chances to connect with program members and win their loyalty.
Start your free trial to create your first digital cards.
Integrate your program with popular e-commerce platforms
Integrating a digital membership card app with popular e-commerce platforms like Shopify, Magento, or WooCommerce can provide your members a smooth and convenient experience.
They can easily access their digital card while shopping online and redeem rewards or enjoy discounts at checkout.
This feature adds value to your program and enhances the overall customer experience, leading to higher engagement and loyalty.
You can use PassKit as one of the Shopify loyalty apps or use it for e-commerce loyalty programs.
Incorporate your program with popular email marketing platforms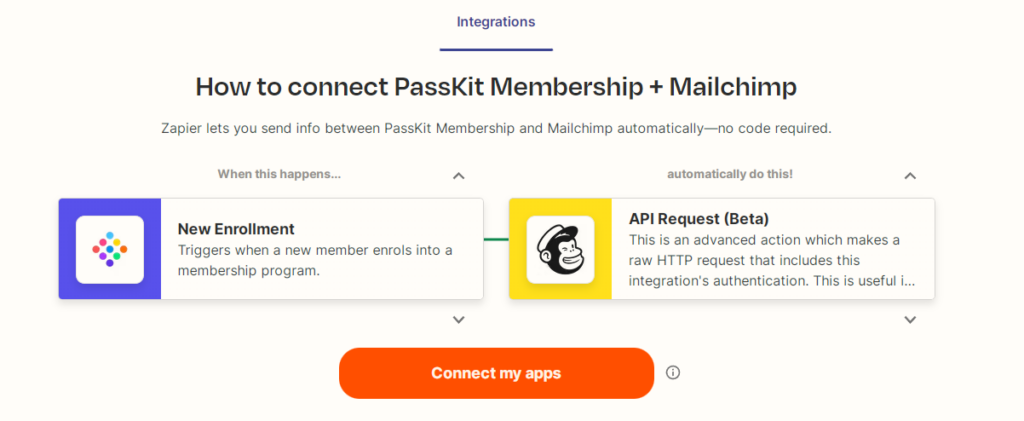 Image source: Zapier
Would you like to send personalized, targeted email campaigns to the members of your program? Look for a digital membership card app to incorporate your program with popular email management tools.
As an example, PassKit can integrate with Mailchimp via Zapier.
Mailchimp integration allows you to instantly send membership cards to new subscribers and stay on top of the data since both PassKit and Mialchimp automatically update member information.
It is also possible to automatically synchronize your contacts in Mailchimp with digital membership cards in Apple Wallet and Google Wallet.
Integrate your program with marketing automation tools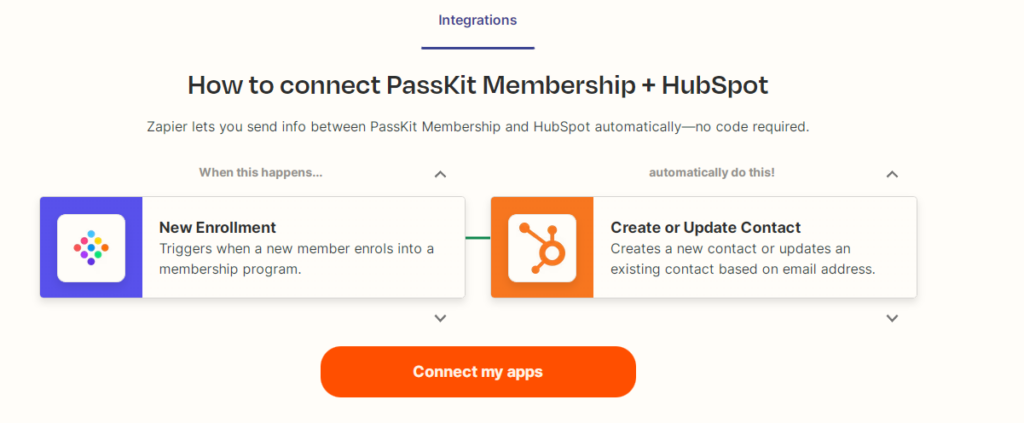 Image source: Zapier
Marketing automation tools enable you to streamline processes and interact with your members promptly and efficiently.
Integrating PassKit with marketing automation tools allows you to create automated campaigns triggered by specific member actions or behaviors, such as sign-ups, purchases, or earned points.
It can help provide personalized and timely communication to members, increasing engagement and participation in the program.
Sign up now to see how it works.
Connect your membership program with other systems through API
Business-centric APIs enable you to integrate your membership program with other business systems, such as POS (Point of Sale), CRM (Customer Relationship Management), or inventory management systems.
For example, integrating PassKit with a POS system enables members to earn rewards and redeem rewards at the point of sale – they can easily take advantage of the program's benefits.
Connecting your PassKit membership program with a CRM system will help you better understand your customers and create a more compelling customer engagement strategy.
Since PassKit integrates with Zapier, you can connect it with any CRM system available, such as Salesforce, Wix Automation, or Pipedrive.
Provide multi-language support to reach customers worldwide
With multi-language support, you can create and customize your membership cards in multiple languages to reach customers regardless of their language or location.
It can be crucial for companies with a global presence or those wanting to expand their reach into new markets.
With PassKit, you can display your digital membership cards in the language of the user's phone setting. Whether you have a global customer base or not, you can add up to 35 languages per card.
You must copy and paste the string from each text field and provide the relevant translation.
Sign up today to prepare your first translation.
Ensure data privacy and security
Data privacy and security are essential for companies that use digital membership card apps.
PassKit prioritizes data protection by using encryption to safeguard sensitive information like member names, addresses, and payment details. Encryption guarantees unauthorized parties cannot read or access data, even if it's intercepted.
PassKit also complies with the GDPR, which governs lawful and ethical data collection, processing, and storage.
By incorporating all the features mentioned above, a digital membership card app can provide various opportunities to expand your organization's possibilities beyond imagination.
Ready to take your membership program to the next level? Sign up for PassKit today and enjoy the endless possibilities of a digital membership card app.
With personalized experiences, targeted marketing, and easy program management, PassKit can help you enhance member engagement, improve loyalty, and drive business growth.
Don't wait! Join PassKit now and start unlocking the full potential of your membership program.
Four key benefits of using a digital membership card app
How can a digital membership card app change your business? We have compiled a list of the most significant benefits to answer this question.
Improved member experience
Here are some ways a digital membership card app can enhance the member experience.
Convenience: Digital membership cards are more convenient than traditional physical cards since members can easily store them on mobile devices. Members can access these cards anytime and anywhere. They no longer need bulky wallets or worry about losing their cards.
Customization: The possibility to customize digital membership cards to match your brand and offer unique features that fit your member's needs also creates a more personalized and engaging experience.
Real-time updates: With real-time updates on benefits, rewards, and promotions, members stay informed about their membership program and can easily take advantage of relevant offers.
Easy redemption: Digital cards enable members to redeem rewards and points regardless of location. It makes participation in the program more accessible end encourages members to stay loyal to the brand.
Improved communication: Digital membership cards allow you to communicate with the program members via push notifications or in-app messaging. The ability to send personalized messages and offers to members improves communication and builds stronger relationships.
A digital membership card app can help you build stronger customer relationships and increase loyalty and satisfaction.
Increased customer engagement and retention
We have already discussed the convenience of digital membership cards, how real-time updates keep customers engaged and up-to-date with the latest offerings, and how personalization options help you offer tailored rewards and promotions that resonate with each program member.
All of these features lead to increased member engagement and retention.
On top of that, you can also incorporate gamification elements into your digital membership cards. Features like point systems or progress tracking can make the membership experience more enjoyable.
Streamlined business operations and cost savings
A digital membership card app can help you streamline business operations and save your budget.
It automates tasks such as awarding rewards, tracking member activity, and sending up personalized offers, minimizing the need for manual intervention and freeing up resources for other high-priority tasks.
Using digital membership cards eliminates the need for physical card creation and reduces distribution tasks, allowing you to reduce costs and invest in other business areas.
Improved marketing opportunities
As we have said, a digital membership card app allows for personalization, segmentation, and integration with other platforms. All of these features improve marketing opportunities.
Personalized offers and rewards increase the effectiveness of marketing efforts and boost customer engagement.
Segmentation allows targeting specific groups with tailored offers and promotions, improving the relevance and impact of marketing campaigns.
Integration with popular email marketing platforms, e-commerce platforms and marketing automation tools allows for consolidating marketing efforts and delivering a more cohesive and compelling message to customers.
Knowing all the digital transformation benefits, it's hard to believe that some businesses still stick with physical membership cards.
The digital way offers you a unique opportunity to reduce plastic waste, lower your carbon footprint, and open a world of new possibilities.
Final words on the digital membership card app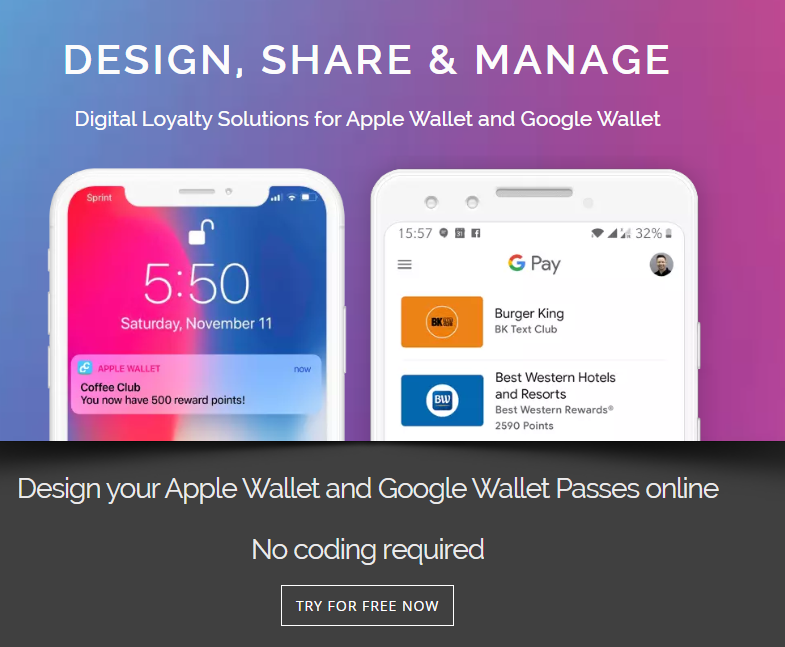 Overall, digital membership card apps are a game-changer for businesses looking to enhance their membership programs.
Their numerous benefits and features, such as improved member experience, increased customer engagement and retention, streamlined business operations, enhanced marketing opportunities, and cost savings, allow you to take your membership programs to the next level.
You've got nothing to lose: Sign up for PassKit, our customer loyalty software, to create digital membership cards without hiring graphic designers or programmers.
PassKit gives you a 45-day free trial to see how the connected customer experience can help you boost customer engagement and outsmart the competition.
FAQs on the digital membership card app
How do I create a digital membership card?
You can create a digital membership card in several ways, including hiring graphic designers and developers. Still, the easiest way is to use digital membership card software such as PassKit.
When you create a free PassKit account, you can choose a template, align it with your branding, include all the relevant information and add links to your website or social media profiles.
Once your design is ready, you can offer the new membership cards to your customers in the form of Apple Wallet or Google Wallet passes.
What is a digital membership card?
A digital membership card works similarly to a traditional one but is stored electronically on a mobile device.
It provides easy access to membership information, rewards, and benefits. Members can track their points, redeem rewards and check their activity history.
Digital membership cards offer several benefits to businesses and customers, including improved member experience, increased customer engagement and retention, streamlined business operations, and cost savings.